Shopping Cart
0 items in cart
Total: £0.00

Business Cards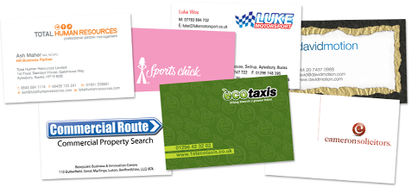 Making a good impression first time is important in business, with a set of our premium business cards you'll do just that. Our premium business cards are printed full colour, either single or double-sided on 400gsm premium silk artboard with a choice of either matt or gloss laminate and start from as little as £28.
Our business cards are thicker than most at 400gsm, It's this thickness and the choice of gloss or matt laminate finish that'll help you make a lasting impression.
Get yourself a set of Super Print Premium Business Cards for a superior look and feel and at a super price to boot.
Looking for larger quantities of cards? Try our range of Bulk Business Cards
Simply select your requirements below. Once you have chosen, click on the price to proceed to the checkout.
Make your selection
Delivery Options
QTY

Super Delivery

3-5 Working Days

ex VAT
inc VAT
250
500
1,000
2,000
3,000
4,000
5,000

Free delivery is included on all our products.
Business Cards include FREE UK mainland delivery.
Need design for your cards? Let the Super Print design team create your business card artwork from just £20+VAT Contact Us for more information.
Artwork information
Product Details:
Product: Business Cards

Size: 85mm x 55mm

Sides: Single Sided

Paper: 400gsm

Laminate: Unlaminated

Design & Artwork: Business card artwork template (download template)

Please note: The price does not include artwork. If you require artwork, please visit the artwork page.