Shopping Cart
0 items in cart
Total: £0.00

A-Boards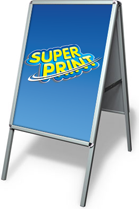 A-Boards are a super way of promoting your business. Ideal for placement in retail and high footfall areas. At Super Print we have some of the lowest priced A-boards anywhere in the UK as well as FREE UK delivery.
Our lightweight aluminium A-Boards have a silver finish and because they are made of aluminium they do not rust. A-boards are available for several poster sizes A2, A1 and A0 and come supplied either on their own or with 2×120gsm outdoor posters printed in full colour.
A-Boards are easy to use, with simple snap open/shut flaps to quickly and easily change posters.
Make your selection
Delivery Options
QTY

Express Delivery

3-5 Working Days

ex VAT
inc VAT
1

Free delivery is included on all our products.
Artwork information
Product Details:
Product: A-Boards

A-Board Size: A2 without posters

Design & Artwork: A-Board Image (download template)

Please note: The price does not include artwork. If you require artwork, please visit the artwork page.